RailCamp is a partnership of the National Railway Historical Society and the following groups:
Looking for Information about
Adult RailCamp
? Click
here.
ATTENTION high school boys and girls with an interest in railroading - past, present, or future: >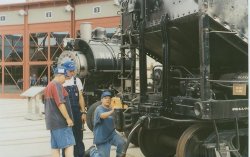 * Photo by R. Eastwood
RailCamp 2008 was a smashing success. The National Railway Historical Society is offering RailCamp again in 2009; On this web site you can find out how you can join us for a week-long adventure in railroading.
There will once again be two camps, one in the Eastern United States at Steamtown, and the other in the Western United States at the Nevada Northern Railway. Join us for a week-long adventure in railroading.
For an application form/brochure,>

RailCampers at Steamtown (* Photo by R. Eastwood )
Introduction to RailCamp: Steam locomotives no longer cross the United States as they did years ago, but the vintage railroading industry, along with its modern counterpart, is alive and well today. Positions dealing with the restoration and management of these locomotives as well as modern ones exist worldwide. Opportunities to learn about them, however, do not. In recognition of this need, we developed the RailCamp program. The week long camp is designed to provide a rail history preservation background, railroad operations and career opportunities to high school students entering the 9th grade through the 12th grade. It is an excellent forum for young adults with similar interests to learn about the rail history movement while sharing ideas with peers from other parts of North America.

* Photos by J. Lilly

* Photo by R. Eastwood

Explore the past, present, and future of Railroading at RailCamp *


* Photo by B. Smith